DIRECT MAIL SERVICES
We can help you get a better ROI on your direct mail marketing campaigns
At Print And Mail It, we provide a range of direct mail services that will help you run your job smoothly and most importantly help you maximise your return on investment.
Direct mail marketing is still one of the best profit generators for businesses. Whether acquiring new business, bringing back dormant customers or keeping your current customer base up to date with your current offers and services, it can produce terrific results.
Your direct mail marketing campaign just has to be implemented correctly with a compelling offer and has to be structured in such a way that it grabs your customers or potential customer's attention.
Some of the different types of direct mail marketing we can assist you with include, postcard mailouts, standard letter and marketing card mailouts that are inserted into envelopes, plastic wrapping direct mail pieces, plastic wrapping for catalogue distribution, and plastic wrapping brochures with a flysheet.
When starting off a new campaign we will go over a detailed brief with you and plan out a schedule. We will run over things such as whose Aust Post account are we lodging on, details of any material that needs to be printed, are there any specific in-hand dates for the direct mail pieces, and more.
We can assist with the copywriting element of your direct mail piece and give advice on how to best implement split testing on your direct mail campaign.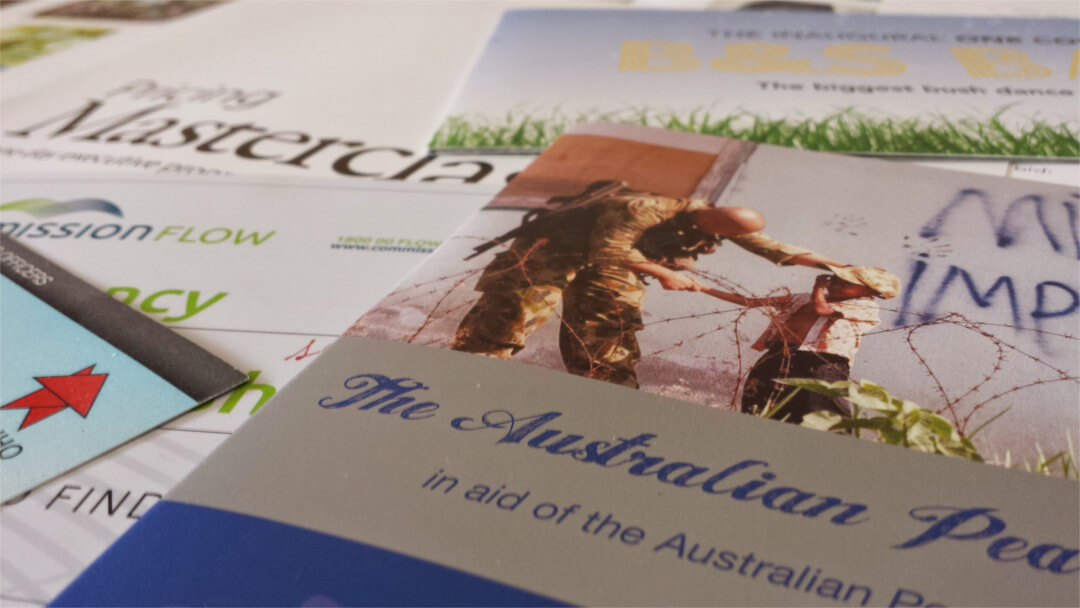 DO YOU WANT TO GET THE BEST POSSIBLE RETURN FROM YOUR MAIL OUT?
We guarantee our direct mail consultation services. If you don't get a better result, or aren't happy with the results we will waive our consultation fee.
THE 1 QUESTION YOU NEED TO ASK BEFORE YOU HIRE A MAIL HOUSE TO DO A DIRECT MAIL CAMPAIGN
Before you hire a mail house ask them this one question to see if they have your best interests in mind.
Who's Australia Post Account should you lodge your mail out on?
If it is a large scale mail out in the number of 1000's and you do a few campaigns each year, you should have your own Australia Post account. Most mail houses put a small mark up on postage, nothing wrong with that as long as they are up front about it.
But we have seen times where clients have been urged and advised to lodge their direct mail campaign on the mail house's Australia Post account so the mail house can put a mark up on postage.
If it is a mail out of around 500 items, a 10% mark up will account to a saving of around $50.00. But if you are mailing out thousands of direct mail pieces the savings can be in the thousands of dollars.
We recently saved a client $3000.00 on postage on one mail out by advising them to use their own account. In the past their previous mail house had been lodging on the mail houses account with a mark up over 15%.
9 TIPS FOR MAXIMISING YOUR ROI WHEN DOING DIRECT MAIL CAMPAIGNS
GRABBERS
Include a grabber into your direct mail piece. Something that will get their attention and give them a reason to read your direct mail piece.
ONE ON ONE
When writing your mail piece, always write it as if you are speaking to one person. Even better, use a conversational tone as if that person that is receiving your mail piece is standing in front of you.
customer list
Do a direct mail out to your dormant customer list. People that have used your services in the past but may have gone else where. Give them an offer they can't refuse.
wiifm
What's in it for me? Yes, everyone wants to know what is it in it for them. Focus on their needs and what it is that your services will do for them. They usually aren't concerned with how good you think you are. Tell them how you will fix their pain points.
DIFFERENTIATE
Differentiate your mail piece. Use a different colour envelope, do a split test using stamps instead of bulk mail, send it via express post. Whenever you try things like this do a controlled split test so you can evaluate your results. Yes, it may cost more to do it via some of the methods mentioned above, but the results may be worth it.
BENEFITS
Mention benefits instead of features. A feature may be that your little red widget automates a certain procedure. If this automation saves time, you could word it in such a way as "You will save yourself at least 4 hours per week as our little red widget will automate the process for you".
VARIABLE DATA
Use variable data and personalise you mail piece where ever you can. You could test headlines for offers, use personalisation within the corrospondence, or any number of things. The more you personalise the more likely you are to have a successful direct mail campaign.
BEST OFFER
If you are going to the trouble of doing a direct mail campaign try to to the best possible offer you can. At least this way if it doesn't work you know you have given it the best chance you could.
COPY WRITER
Even better, employ the services of a professional copy writer. The investment you make in copy writing services will be a drop in the ocean when compared to the results they can get you. We have access to some of the best copy writers in the business.
OUR MAIL HOUSE SERVICES INCLUDE
Looking at plastic wrap as an option? No problem, we have you covered. Catalogues, magazines and direct mail pieces can all be plastic wrapped and posted.
OFFSET PRINTING
We can offset print anything you may need for your direct mail campaign. From brochures, flyers, postcards, marketing cards, catalogues, or anything else you can think of.
All part of a direct mail out campaign. Folding letters and other materials, inserting into envelopes, and sorting ready for lodgement with Australia Post.
Australia Posts unaddressed mail service can be a great way to notify potential customers in your area of your services.
Whether you need a mail out lodged on our account or yours we can help. We can help you get your own Aust Post account so you can save more on postage.
COPY WRITING
Along with the quality of your list, and how appealing your offer is, copy writing is among the most important elements of your direct mail piece. We have access to some of the best copy writers in the world.
High Speed Inkjet printer for printing addressing on postcards, flysheets and envelopes.
From magazines, annual reports, newsletters, catalogues, brochure, to promotional booklets we can help you get your publication to its destination.
NEED HELP WITH AN UPCOMING MAIL OUT?
If you would like to discuss your next campaign and see how you can get better results, or you would like to get a quote, give us a call on 02 4306 0583 or click the button below and send through your details.